November 1, 2013
by Kathy Brous
What Inner Child?
#12 in her ongoing book blogs from "Don't Try This at Home"
In my last post, group therapy put me through the floor. "Start with the wounded child inside you," Dr. Matt repeated. "Then introduce your care-giving adult to your hurting child," so the adult can "take care of" it.  But the more I tried it, the sicker I felt.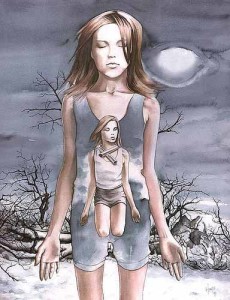 I just couldn't find a "child."  Was he talking about my grade school voices coming up from the back seat of my parents' car decades ago (Book Blog 11)?  They just popped up and disappeared, a one-shot shock 'way out of my control.  But I couldn't find a "child" as a person.
My Dad died, but I couldn't cry, remember? That's why I took the plunge and went to therapy. Yet that grief failure was never addressed; instead came this "child" agenda. And all I knew was: here I'd gone for help, but I was feeling worse.
Where was the Adult Attachment Interview, needed for anyone starting therapy?  It's been around since 1994. [FN1]
Finally I told Matt, "My husband didn't love me for nearly 30 years, the rebound guy didn't love me, and now it looks like maybe my parents didn't do emotions much either. And you're telling me 'Go love yourself"? At least with the rebound guy I didn't feel so alone.  I can't feel any such child, and the more I try, the more anxiety I feel. It's like being asked to go have a homosexual relationship with myself; there's something pornographic about it."
"If you really find hugging your own child to be pornographic, you have severe trauma and need serious help," he said. It didn't sound like, "That's bad, we need to get you more treatment."  More like, "You're uncooperative, try harder, or you don't fit in the group."
Think of me as a frog on a lab table, torso slit open in front. Delving into my 2008 notes today, I can see what happened and report it. But at the time, all I knew was it felt like my belly was being slit—and no one could understand that simple fact when I told them, nor tell me what to do about it.  They treated me like a broken widget refusing to behave as expected.  Never any question about their methodology.
The emotional pain was bewildering, so back I went to the web and the phone.  On August 1, I got a second opinion from Pam, a divorce counselor at a local church. "Your hurts go too deep and are too many," she said with empathy on hearing my story. "Support groups are inadequate.  Stop the Superwoman act and take care of yourself; get individual therapy."
Now it was deep in the Crash of 2008, I was out of work, and horrified at the expense. But Pam convinced me by a sheer compassion which stood out like a lighthouse in the pitch dark of all others' indifference.  I never forgot that call; to this day I love her.  She even found me a referral to a local agency.
I was in a second therapist's office for individual treatment on August 5, the emotional pain was that intense.
Just Take It on Faith
Dr. Rita like Dr. Matt was full of useful textbook wisdom. "Your ex and Dan (the rebound) were exactly the same: neither could make an emotional connection," she pointed out to my dismay. "Larry was all intellect, no sex.  Dan was all sex, no intellect. Neither were emotionally available.  There was no pillow talk, no emotional intimacy, no 'I love you.'  That's why neither of them could even think of sharing children with you.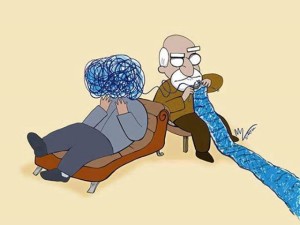 "You need emotional change, which only occurs with emotional connection," she said. "Intellectual insight is not emotional cure; you are too consumed with trying to understand intellectually. You do what your ex did, hide your emotions behind your intellect."  She urged me to stop taking so many notes in session. "That's a way to block emotional change."
All true thus far, it seemed.
But she didn't want to deal with my Dad grief, either. "If your father never came home, it's like the death of a stranger," she dismissed it. "Don't feel bad you can't cry for him."
So with whom should I make an emotional connection? "Make an emotional connection with yourself," Dr. Rita said. "To find the pieces of yourself, you must love yourself… Make a connection with your inner child, that's the theory."
I was neck deep in emotional pain, not to mention the Crash of 2008 and my ex's credit card debt.  So it took me several weeks to realize but I eventually noticed I'd heard it before.  Dr. Matt hadn't mentioned a theory, but was doing just this when I left.
"Inner Child Theory," Dr. Rita expanded, "has a documented history of success. A part of you is a hurting child inside. You've got to learn to comfort that child yourself." She went on in detail about what is the inner child, vs the other adult part of us who must understand the task of comforting the child. I wrote it all down, but still couldn't feel either. I had even less of an idea what she meant by "comfort."
Feed myself chicken soup?  Chocolate?  Find a hot tub?  (I'd never had children, so that's all "comfort" meant to me.) "Take two chickens and call me in the morning"?  How  does that solve my problem: I'm alone in the world and feeling horribly ill? What is the difference between that and "stuff it"?
For weeks I tried to explain the disconnect to Dr. Rita. "Stop taking notes and let yourself feel it!" she'd command. "Huh? feel what?" I'd say. "The inner child, of course," she'd reply.
Desperate to get across my state of loneliness so profound it felt like a mortal threat, I brought her my poems about Dan. "Beautifully written," she said, "but there's a common theme of victimization; this is all the self pity of a victim.
"Aren't you sick of it yet? Why don't you just stop being a victim – and start being victorious instead? Why don't you stop emotionally blocking and just comfort the child? You can't do it because you're not willing to give up being the victim!"
"Get down on your knees and comfort the child!!," Dr. Rita finally exclaimed one day (thank heaven I did take all those notes so I can unravel this mess). "There are books on the Inner Child you can read, there are exercises we can give you. It's your emotional block which is the problem!
"You just have to take it on faith and give it a try."
If that makes no sense to you, fine – it made no sense to me in 2008.  But how could I buck Dr. Rita? I was in no position to figure it out myself—that's why I went for help! No wonder top psychiatrists are writing critiques of their profession. [FN2]
Where was the Adult Attachment Interview, I ask again? Why didn't she tell me about Attachment Disorder in adults like me, as well as in children? Where were the diagnostic tools – or a diagnostic method?
But I didn't know any of that then.  I told myself, "At least now I'm getting individual treatment, and now she's explaining the theory in detail." So in September 2008, after receiving the same RX twice, I caved to the parchments on their walls.
Flunking Out at Bonding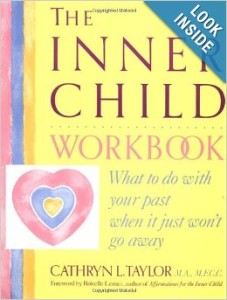 On hearing that my own backward emotional blocks were the culprit, down I slunk in remorse to Barnes & Noble to buy "The Inner Child Workbook" and do my homework like a good little, er, child.  It put me through 36 pages of exercises. First I was to interview my relatives to ask how my parents were with me as a child, then interview my body to find out where the emotional pain sat. [FN3]
"I could never understand why your mom was so mean to you," my older cousin Bonnie said – just like that. "I noticed it when you were about 5.  I used to ask her, 'Why are you so mean to that little girl?'  She was mean to you in public, the aunts saw it, everyone saw it.  But then she was mean to your father in public.  I guess she just wasn't a very nice person."
I knew Mom didn't like me much but had taken it for granted forever, like the weather.  Now I began to recall incidents which hurt, but had just been put out of mind.  I remembered a day before my sister was born, which puts me under age five, when Mom said of my playmate, "I don't love Michelle; she's not my daughter, but I like Michelle. I love you – but I don't like you." It stung so I never forgot it, I can still see the family dining table where this happened.
There was another memory of a small ring Mom had given me which slipped off my hand washing up in fifth grade class.  She wouldn't talk to me for weeks afterward.  The guilt felt awful.
Some of this data may have been useful in some context, but in this isolation, with no context, it just produced more anxiety.
Finally on page 37 the Workbook reports as fact that "infants need attachment," a concept neither of my doctors ever mentioned.  (Try the Adult Attachment Interview?)   "From birth to 18 months, the developmental tasks you needed to master were bonding with mother, nurturing and trust," Taylor writes.  (There's a fine distinction between attachment and bonding but many therapists use them interchangeably.)
"If you were left for long periods of time to cry… if the arms that held you were rejecting and rigid, you would not have felt safe.  If you did not feel safe, you would not have been able to bond enough to develop trust… You would most likely grow up either compulsively seeking closeness or habitually avoiding it," Taylor goes on.  "Many of your relationships terminate due to your neediness." [FN3 Opcit]
Terror struck.  I had no information on my first 18 months (in fact no one can remember it) — but something deep in my gut knew in that moment:  my problem was a lack of bonding.
Wham, it hit me:  I had failed to accomplish the task of infant-mother bonding.  For months I couldn't feel the "child thing" — but this I could really feel.  Suddenly I had jumped from conscious memories of age 5 or 10, to what felt like entirely subconscious ghosts of memories in a dark place before time.
I had flunked bonding.  The failure notice felt like a death sentence.  And I had only myself to blame for my gross infant incompetence, and only myself to fall back on.  But I and myself were the ones who were broken; how could I fix it? [FN4]
Now what? Could I bond with myself? Is that what they're trying to get me to do? Or could I get bonding from a book? Or somewhere else? Say, Wal-Mart? Or for a price, Nordstrom's?
On and on the Workbook went, detailing the many damaging ramifications of an infant's failure to bond. If we flunked bonding as kids, now as adults we're empty inside and too needy for attention. I wrote in the margins over and over "I'm screwed…I'm just screwed."
Hadn't my ex and Dan both said I was too needy? Weren't the latest books and flicks like "He's Just Not That Into You" saying just like Dan, that women who want relationships are too needy and that "relationship" itself is a dirty word in today's fast-track world?
Aren't leading "dating advisers" like Christian Carter making millions advising women to stop being needy and stop needing men, because men don't do emotions and just don't get close?  Weren't they saying that my need for bonding was a character flaw, that I had to wipe out such childish needs? [FN5]
How was I to do this? No surprise, the Workbook's RX was the same issued by my two therapists: hole up alone and heal your own child.
Dr. Taylor instructs us to lock ourselves in a room alone, and do a series of exercises. First, lie down on a sheet on the floor and get in touch with the child by sucking on a baby bottle or eating applesauce by hand as if unable to wield a spoon, smearing yourself with it. "Find out what it feels like to be a helpless infant," she advises. If that's not regression, what is?
I underlined chapter after chapter, scrawled reams of notes in the margins, and forced myself through the exercises all by rote.  My thinking brain couldn't understand it.  But every time I picked up this book, I felt like committing suicide.  My deep subconscious emotional brain understood all too well.
After a month I hid the Inner Child Workbook under a stack of other books where I physically couldn't see it.  Over a long education and global travel, I have read hundreds of books spanning three thousand years of world literature including Dante's depiction in Italian of the Inferno, a very scary place.  But this Workbook is the only book I have ever hidden.  Looking at it even now sends a shiver down my spine.  Some days a book burning didn't seem an out of line idea.
So where was the Adult Attachment Interview? Hadn't the doctors read any adult attachment disorder books or anything on  adult attachment theory or adult attachment disorder?
About the Author
Technical writer and author of the upcoming book Don't Try This at Home: The Silent Epidemic of Attachment Disorder –  How I accidentally regressed myself back to infancy and healed it all. Raised on Long Island, New York, Kathy survived a 30-year career in the fast lanes of New York City and Washington DC.  Starting on Wall Street researching South African gold stocks, she was an international economist for 18 years, using her Japanese language skills to write and consult on U.S.-Japan trade and finance.  In Washington, she became a technical writer, producing complex documents for Pentagon subcontractors, her line for the last 12 years, while pursuing her hobby as an opera singer. She was busy flying around the world instead of having children and building a family. Suddenly in 2007, Kathy faced divorce from her 27-year marriage to her college sweetheart, leaving her bankrupt.  A move to California was followed by the death of both her parents and then two bad rebound affairs – five life disasters in two years. Those crises started her down a path of discovery and healing that she is now able to share with others.
———————————
This is from Kathy's forthcoming book DON'T TRY THIS AT HOME: The Silent Epidemic of Attachment Disorder – How I accidentally regressed myself back to infancy and healed it all.  Watch for the continuing series of excerpts from the rest of her book each Friday, as she explores her journey of recovery by learning the hard way about Attachment Disorder in adults, adult Attachment Theory, and the Adult Attachment Interview.
Footnotes
FN1 George, C., Kaplan, N., Main, Mary, "An Adult Attachment Interview," Unpublished MS,  University of California at Berkeley, 1994
FN2 Lewis, Thomas, Amini, Fari, Lannon, Richard; "A General Theory of Love", Random House, 2000. See:
www.paulagordon.com/shows/lannon/
FN3 Taylor, Cathryn L., MFCC, "The Inner Child Workbook: What to do with your past when it just won't go away," Penguin Putnam, New York 1991
FN4 "You cannot apply Self-Help to a problem from which the Self that's trying to provide the Help still suffers," I read years later in Norwood, Robin, PhD, "Daily Meditations for Women Who Love Too Much," Jeremy P. Tarcher/Putnam/Penguin Books, New York, 1997
FN5 Carter, Christian, "Catch Him and Keep Him," Audio CD set, 2006