September 29, 2014
by Sandra Steingard, MD
The Problems of Non-Consensual Reality
In a couple of weeks, I may see some of you at the MIA Film Festival. I am honored to be on a panel called "Re-Thinking Psychiatry" with two esteemed colleagues. In advance of the festival, I decided to write about what has been most central in my own "re-thinking": my basic understanding of psychosis – when a person does not share consensual reality. It has been a fundamental re-think: how do we define it? how do we understand it? when do we intervene? how do we intervene?
When you are a doctor who believes that psychosis is the external manifestation of an altered brain state that best responds to a drug, you do everything you can to persuade a person who is psychotic to take the drug. People who experience psychosis are – at least in my experience of meeting and talking to them – often distressed. I have learned that the next thing I write will seem obvious to some and provoke anger in others: It can feel negligent, even cruel, to deprive people of a drug – even one fraught with many negative effects – if this drug will reduce the suffering.
Over the past few years, I have been in an odd situation. I still understand this perspective. However, I also have a deepening appreciation of alternative views. After taking a drug, a person does not always feel "better." This is not exactly a new insight for me. Many years ago, I knew a woman who lived with a voice. She loved him – she was convinced this was the voice of a "him" – and she never caused trouble for others. She was content with her life. One day, however, he turned on her and in that moment she sought help. She was not so much looking for someone to take the voice away but for something or someone to sooth her broken heart. The initial help she was given came in the form of a pill. The voice went away, but with it went her zest for life.
Read More
---
September 26, 2014
by Kathy Brous
"General Theory of Love" on Mammals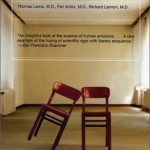 "A General Theory of Love"  by Thomas Lewis MD,  Fari Amini, MD, and Richard Lannon, MD, is all about why it's so important that we are mammals.  They say it's vital that we value our mammalian attachment system and stay close to other mammals.   Here are  quotes and some great audio clips from "General Theory," to follow up on Dr. Stephen Porges' writings on our mammalian attachment system last week.
"A body animated only by the reptilian brain stem is no more human than a severed toe.  Reptiles don't have an emotional life," says General Theory.  "The advent of the mammalian limbic lobe, uniquely, allows mammals to care for their own, have emotions, and risk and lose life for another."
Read More
---